org.manager provides you with the workforce modelling tools to manage organisational change in a highly effective, agile fashion. Aggregate and visualise your HR data in real time, automate org charting, collaborate more effectively, model your workforce to align with strategic objectives and access archived changes for compliance reporting.
org.manager allows you to easily create plans for changing the entire company, restructuring a business unit or replacing a key individual. Scenario modelling lets you copy current views of your organisation, create multiple new scenarios and compare them side-by-side to choose the best structure for the future.
Copy your existing organisational structure and create new organisational plans and models that can be shared and discussed. All changes are automatically highlighted for easy identification.
Organisation modeller with multiple "what if" scenarios
Easily move, add, delete and update org charts using drag-and-drop tools. Stay on top of changes in your HRIS while plans are created and updated via change and conflict reports.
Intuitive comparison and workforce modelling tools
Key metrics automatically recalculate, helping you to identify any issues, such as budgets, salaries, headcount or span of control, which are outside of set planning thresholds.
Dynamic budget, salary and headcount modelling
Share plans with other key stakeholders, make adjustments based on feedback, and approve new organisational plans more efficiently.
Built-in workflows and collaboration
Document plans and add organisational changes made in your HR system of record. Eliminate the time and resources required to update changes into a visual format for review and approval.
org.manager has a range of modelling functionality that gives project teams in-depth control of how they model and interact with their data. Employees, departments and reporting structures can be moved to their new location, the workbench or via the copy / paste clipboard.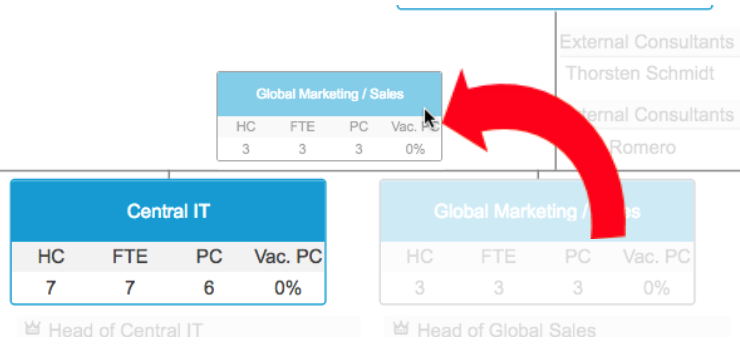 Starting with the current data pool and its structure, organisation scenarios can be created and saved without changing any HR system data. Objects can be moved and new objects can be added to the structure or deleted.
Organisational planning requires close collaboration across lines of business, HR and executives. Conveying even simple updates to the organisation, let alone more complex changes, can be cumbersome - requiring a mix of spreadsheets, manually created Visio charts and meetings. org.manager makes it fast and easy to convey and collaborate around changes.
Share plans with managers and executives visually, enabling access to an updated org chart alongside tracked changes
Ensure security, with role-based access and limited views tailored to each individual
In-built export options include Print, PDF, PNG and preformatted for Clipboard
Publish and share plans via an email link to a private work space for individual review and continued discussion
Secure Sharing & Collaboration
org.manager includes a workflow management tool to keep track of scenarios, who has access and what stage of review and approval they're at.
When creating a future state scenario there are often significant changes to the reporting structure. org.manager allow users to control the reporting structure of each move by position and employee.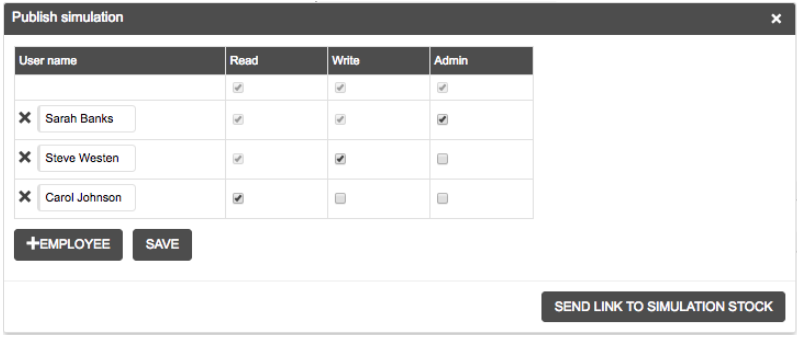 The workbench operates as a sandpit where existing employees and departments can be move and new structures created. A clipboard and recycle bin add flexibility in how users model their new scenarios.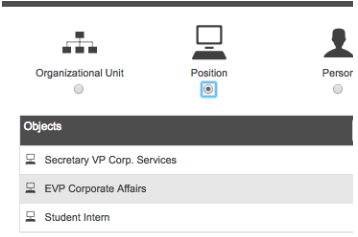 Customisable visualisation rules apply colours and highlights to charts to identify those that meet a specific criteria.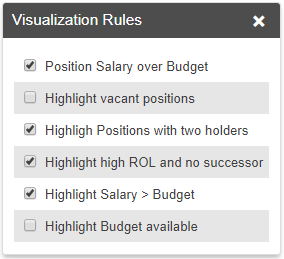 Maintaining control of the restructure process is a critical role of the Project Manager. Who made what change when? Is that change accepted / rejected by management? How do I create alternate scenarios based on those decisions? org.manager tracks every change and provides visual tools to manage this process with efficient accuracy.
Track, Review and Highlight Changes
Detailed Scenario Comparison